Man stunned to learn his missing dog was 'euthanized without warning' at shelter
A Georgia man was surprised when he saw his missing dog's photo on the Facebook page for a local animal shelter. His dog, named Georgia, was on the Facebook page for the Baldwin County Animal Shelter – he was sure it was her because of her unique ears. Matthew Griffin told WMAZ News, "I'm scrolling through it, and there's a picture, there's Georgia plain as day, you can tell by one ear sticking up, one ear down, she's been that way forever."
Griffin messaged the shelter and thought that things were in order for him to come to the facility to retrieve his dog…but that never happened. Before he made his way to the facility to bring her home, he read a message that stated that Georgia had been "euthanized without warning" because of space issues.
The blame game
Griffin is angry that his pup was put down, especially after he reached out to them, but the facility manager has stated that standard protocol was followed and she was put down because those there the longest can be killed when space becomes an issue.
Carlos Tobar, the county manager, told the news agency: "Basically, the animals that have been here the longest, generally they are the ones that get euthanized first. Being there for about three weeks unclaimed, Georgia fit that description."
Owner responsibility
Owners must be responsible for their pets. Why had Griffin failed to visit this facility to see if his dog was there? Why wasn't Georgia protected with her owner's information via an identification tag and a microchip?
According to the news agency, Griffin had actually been corresponding with a shelter volunteer, not staff – which may explain why notes were not input into the system to protect her from being put down.
Be a good pet parent – keep a collar with identification tag on your cat or dog and ensure that your companion has a microchip with up to date information. If your pet runs away, check in with all shelters in the area – not just once, every day. Visit the facilities in person to see if your pet has been picked up. The amount of effort you put in may be the difference between your pet's life, or death.
More news, updates, funny videos and memes on the National Animal News Facebook page.
---
Your purchase from Chewy.com helps support our writing efforts at the Pet Rescue Report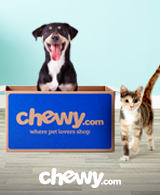 ---
Yesterday: Horrible! Hunter shot his dog after she failed to retrieve ducks – more here.
More: Dogs found in deplorable conditions at home of 'award winning' breeder – more here.
---
The Pet Rescue Report endorses HempMy Pet – CBD products for pets
Enter Rescue10 at checkout for a 10% discount! Your purchase helps support our writing efforts.
---
Wowza!
https://petrescuereport.com/wp-content/uploads/rainbow-67902_960_720.jpg
717
960
Penny Eims
https://petrescuereport.com/wp-content/uploads/PRR-Logo3b-300x38-1.png
Penny Eims
2019-02-17 15:12:14
2019-02-17 15:12:14
Man stunned to learn his missing dog was 'euthanized without warning' at shelter