Huge friendly pooches sent UPS driver fleeing for cover
A UPS driver in Arizona met two huge friendly pooches, but little did the driver know all the dogs wanted to do was to shower him with kisses and hugs on Valentine's Day.
So here is what happened, and while most of the time, a UPS driver runs normal routes without any drama, there's always the exception. It happened last Thursday in the San Tan Valley as the delivery driver had been dropping off Valentine Day's treats to Tanya Otto. Her front door had been open to enjoy the fresh air, and her two huge pooches took it upon themselves to dash outdoors.
"I have a big piece of plywood that they can see over, and just kind of say hello," Tanya told Fox10News. "Well they got so excited with the two of them, and were able to push it down when they saw the UPS truck pull up."
One can only imagine the moment the driver spotted Lambeau and Lexie flying out the door towards him. The driver dropped the chocolates and the flowers and ran for cover in his truck. Packages went flying; the driver was terrified.
The dogs were quickly secured and Tanya profusely apologized. The driver was startled, but he was fine. Everyone survived Valentine's Day including the chocolates and the flowers.
Tanya has plans to secure her front door in order to keep Lambeau and Lexie in the house.
Your purchase from Chewy.com helps support our writing efforts at the Pet Rescue Report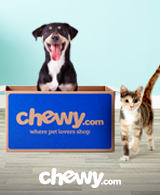 Follow the National Pet Rescue on Facebook for the latest animal related news.
(Photo via Fox News screenshot)
So special
https://petrescuereport.com/wp-content/uploads/UPS-eager-dogs.jpg
360
640
Cheryl Hanna
https://petrescuereport.com/wp-content/uploads/PRR-Logo3b-300x38-1.png
Cheryl Hanna
2019-02-19 12:22:37
2019-02-19 12:22:37
Huge friendly pooches sent UPS driver fleeing for cover